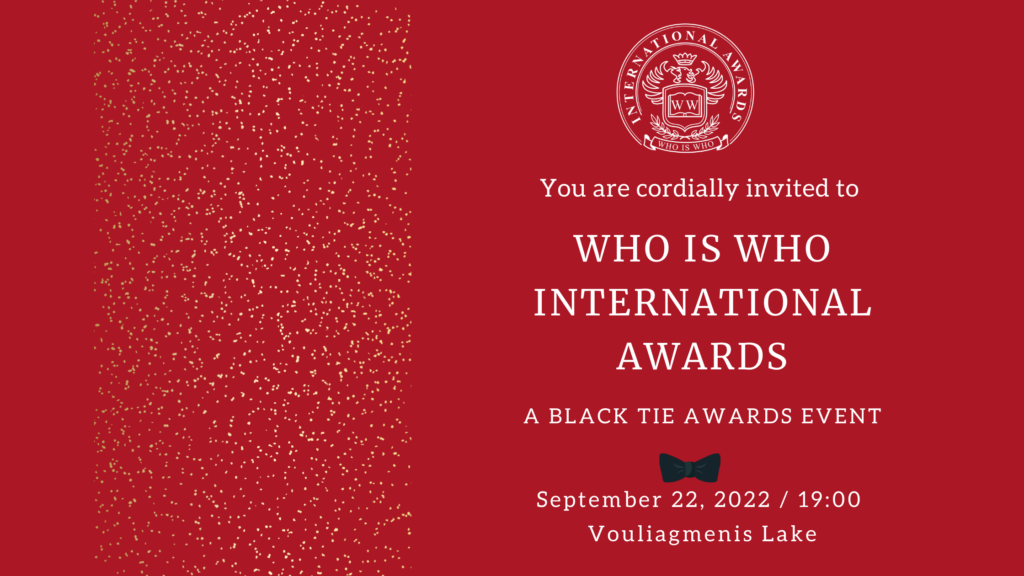 This year, the Awards Ceremony and the Gala Dinner will take place at Lake
Vouliagmeni, on September 22nd, at 19:00.
Indicatively, some of the distinguished international personalities who will honor us with
their presence and will be awarded in 2022 are:
Prince Nereides Antonio Giamundo de Bourbon, Founder of the Parisian couture house Nereides and finance advisor
Princess Maja von Hohenzollern, Modern Designer for innovative interior and lifestyle-products & Animal Welfare Activist
HE Sir Dr. Ian Peter Anderson, President & CEO – Crown Imperial Group, International
Court of Justice, International Human Rights Community
Mimi Denissi, Greek actress, playwright, director and entrepreneur in theatre
Katerina Nafplioti-Panagopoulou, National Ambassador of Greece to the Council of Europe for Sports, Tolerance and Fair Play, President of "Kallipateira"
Dr. Navdeep Singh, Founder of the Sikh group of companies
Simona Mancinelli, Managing Director of Premier Capital Hellas
Nikos Hatzinikolaou, journalist, anchorman, entrepreneur in press
Penny Grivea, Managing Director at Rituals Cosmetics UK & IE
Prior to the Gala there will be a pre event of tree planting in order to leave a local mark of good will.
 This year, the Awards Who is Who support the important work of WISE Greece, awarded
by U.N. and the World Bank N.G.O.
 The menu will be under the care of the well-known award-winning chef Sotirios Evangelou.
 Mm. Maria Nikoltsiou and Mr. Sotirios Polizos will grace us as the presenters for the
evening, while we will also enjoy a music program.
Celebrations will last until early in the morning.
 We will be happy and at the same time it will be a great honor for us to welcome you to this magnificent event!